Best Sellers
Browse Our Communities Favorite Products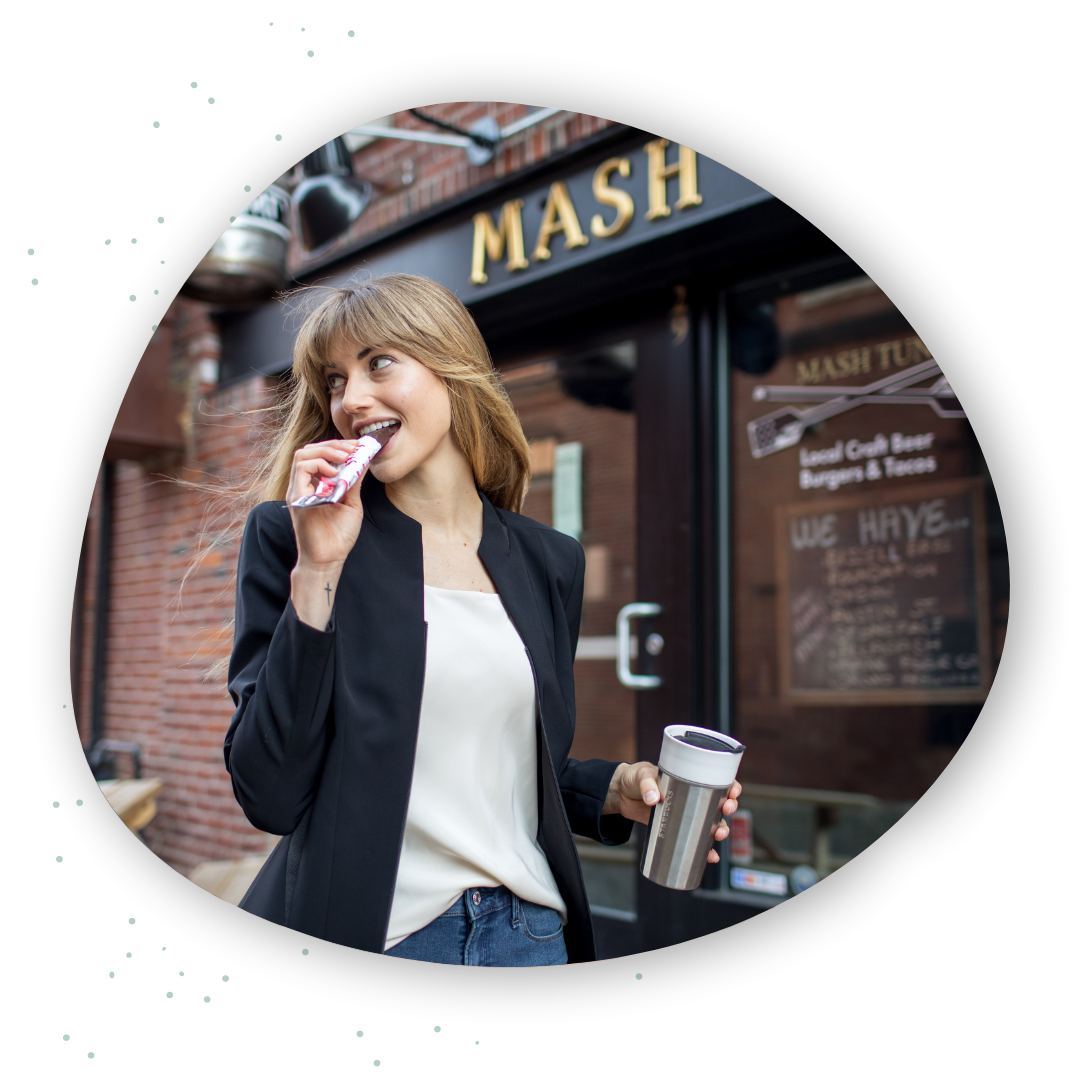 Delicious · Decadent · Pro-Gut
Now, more than ever we have to optimize our health. That optimization begins in your gut!
A single Truth Bar easily (and deliciously!) provides your daily recommended probiotics and Omega-3's...
... as well as the fiber, prebiotics, and antioxidants you need to establish a flourishing microbiome!
Truth Bar is the first ever nutrition bar that combines both Prebiotics and Probiotics to promote gut health!
These satisfyingly indulgent, decadent, dark chocolate dipped bars tastes like a candy bar but are low in sugar andassembled with the finest ingredients from all over the world.
None GMO

Gluten Free

Keto Friendly

Soy Free

Kosher

Plant-Based Vegan

Dairy Free

Certified Women-Owned Business
Join The Truth Bar Family
"This is my happy place!! Besides the great taste they are made with healthy ingredients and I love the prebiotic, probiotic and omega 3's the nourish my body. ( The taste nourishes my soul!)"

""...They are healthy but taste like a candy bar. After trying these I don't ever want to go back to any of the other products that I see on the shelf at the grocery store. Truth Bars are the way to go for health and happiness.""

""These bars are yummy! The plain coconut knocks it out of the park for me and I like the raspberry at second place.""

"Always my favorite the chocolate coconut. Dense and delicious…I usually eat a third of a bar in the morning before a workout and it sustains me until breakfast."

"I love these bars! And having them in auto-delivery means I never have to worry about running out again."

"Loved the coconut sample. So... I ordered 2 boxes with renewal! Perfect for my 4pm snack!"
Ingredients You Can Trust
Chia Seeds

Said to be the century's miracle food discovery, they are packed with powerful soluble and insoluble fiber and loaded with a full day's supply of Omega-3 fatty acids, calcium, magnesium, and other keep micronutrients. Chia seeds provide numerous lasting health benefits for your gut, your brain and your immune system!

Coconut Oil

With links to fat loss, improved brain function, and balancing the gut's microbiome, Coconut oil is a quick dose of clean energy for your body's most important functions. It's easy for your body to digest and utilize almost immediately for hydration, balancing, and nourishment. 

Dark Chocolate

Packed with essential minerals and anti-aging antioxidants. Our rich, exquisite chocolate is soy free, sugar free, and made from whole cacao beans. They are also a phenomenal source of obromine, a naturally occurring alkaloid that's known to stimulate and promote good mood and sharp cognition.

Chicory Root

This powerful prebiotic has tremendous medicinal qualities and is a known anti-inflammatory that also prevents constipation and other gut related ailments. With a ZERO on the glycemic scale, it adds sweetness and is ALSO safe for diabetics. 
Sea Salt

The trace minerals in sea salt help produce proper amounts of HCL (hydrochloric acid) "stomach acid" which is the foundation for assimilation and proper digestion. HCL helps your body to absorb vitamins and minerals like calcium, zinc, iron, folate, and B12.

Plant Based Protein

Pea and Rice proteins are combined to provide all 9 essential amino acids for a complete protein to support over all health, muscle growth and recovery as well as being easily digestible and ideal for those with allergies or intolerances.

Pure Vanilla

Packed with an antioxidant known as vanillin, pure vanilla has many health benefits. It contains anti-inflammatory properties, promotes brain health, helps protect your nervous system, and it's mouth watering flavor profile allows us to keep our bars tasting sweet with limited "added sugar"!

Bacillus Coagulans

In extensive research and clinical studies, this strain of probiotics has proven to be a powerful bacteria, beneficial to treating and preventing diarrhea, IBS, gastritis, bloating, and stomach pain. It is also one fo the few strains that is heat stable and shelf stable, which means it does not require refrigeration to retain its potency.
Blog posts
Whether you are seeking to address specific digestive problems or enhance your gut health, a plant-based diet can be a valuable ally.

Thinking of starting a gluten-free diet? Here is some advice on how your gut
can benefit from ditching gluten for good.

It doesn't matter how busy you are, how challenging your job is, or how difficult your obligations can be – always prioritize your health.
Meet The Founder
Previously a classically trained French chef, professional baker and chocolatier, Diana committed herself to the study of healthy eating and nutrition after undergoing a health crisis.
Her passion for helping people heal themselves is rooted in struggles with her own health. After battling multiple conditions while raising three children, she decided to take control and research health practices from around the world...
FAQ
Find the most frequently asked questions below.
Probiotics are good bacteria in your digestive system that help keep your gut healthy and are beneficial to your overall health.
Prebiotics are indigestible fibers that come from certain plant foods that feed the good bacteria in your gut.
Prebiotics feed the probiotics to help them thrive and work longer in your
body.
When combining a nurturing base of prebiotics in the belly, with a good dose of probiotics, a garden of flora blossoms and fills the gut with a
balanced, healthy microbiome.
Lactobacillus sporogenes (bacillus coagulans). It is a stable Lactic Acid
forming probiotic that has exceptional and lengthy studies of gut healing effects ranging across gastrointestinal issues, bloating, diarrhea and irritable bowel syndrome.
The prebiotic fiber comes from tapioca (from Cassava root), apple fiber, inulin, chia and chicory
In order to achieve a balance between sweetness and low sugar, Truth Bars are sweetened by a combination of natural fruit sweeteners, Erythritol, Purified Stevia Extract and Monk fruit.
The number of grams of sugar ranges from 1-5 grams depending on the flavor.
Erythritol is a natural sweetener derived from NON-GMO corn as a fermented sugar alcohol with GRAS status from the FDA.
Stevia is a natural sweetener derived from the leaf of the stevia plant.
Monk fruit sweetener is derived from a perennial vine from the gourd family and is said to be 200 times sweeter than sugar.
Yes. Truth Bars are made with 100% all-natural ingredients and contain no
artificial flavors, no artificial colors, no artificial sweeteners, and no fillers. Truth Bar ingredients are also Gluten -Free and non-GMO. Many of the ingredients are Organic.
Our Dark Chocolate Coconut, Dark Chocolate Coconut Raspberry and Dark Chocolate Coconut Lemon bars are all 100% Vegan and Dairy Free.
They are also rich in fiber and essential medium chain fatty acids that are easily digested, which makes them incredibly useful for a quick burst of energy.

Our Chocolate Peanut Butter Crunch, Marshmallow and Cookie Dough
barsfeature a non-Vegan blend of brown rice protein and whey isolate that supplies essential Amino Acids for a "complete" or "whole" source of protein.
Net carbs are a calculation representing mostly just the starches and sugars in a food after some fiber and sugar alcohol contents have been subtracted.

Some types of carbohydrates do not affect blood sugar in the body as much as others, so the thought is that net carbs only account for carbs that affect blood sugar.
This is not thought to be a perfect science, but gives a close
approximation of the carbs that do impact blood sugar.
In Truth Bars, net carbs are calculated as total carbohydrates per serving minus number of grams of fiber (soluble and insoluble) per servingminus1/2 the number of
grams of sugar alcohols if 5 or more from total carbohydrates.
Sign up to our newsletter
Receive special offers and first look at new products.